Software Defined Systems Committee (SDS)
The Wireless Innovation Forum's Software Defined Systems (SDS) Committee focuses on projects in standards creation for software architectures, application programming interfaces, test and certification, including:
Defining an industry driven SCA evolution roadmap for the international community

Profiling the SCA specification and related APIs to define internationally accepted variants that are hosted by the Forum

Developing extensions to the SCA standards that address any gaps between the defined SCA evolution roadmap and Forum accepted SCA specification variants

Providing implementation and certification guides, tools etc. easing implementation and supporting proliferation

Establishing and managing industry led certification programs where appropriate 
Management and oversight of this committee is provided by a Steering Group working in collaboration with an Advisory Council.
 Committee chairs are Eric Nicollet (
Thales Communications
) and Ken Dingman (
Harris
).
---
Wireless Innovation Forum - Where you need to be to make an impact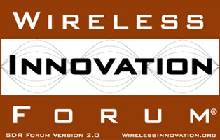 Established in 1996, the Wireless Innovation Forum™ comprises an international group of equipment vendors, subsystem vendors, software developers, technology developers, communication service providers, research and engineering organizations, academic institutions, government users, regulators and other interested parties who share the common business interests of advancing technologies supporting the innovative utilization of spectrum and the development of wireless communications systems, including essential or critical communications systems.
For more information about the Forum and the Lean Standards Development Model, visit us. 
Benefits of Membership
* Have a tangible say in how CBRS and shared spectrum bands operate and the standards, testing, protocols, best practices and testing that make them work
* Get first-hand information about upcoming standards, rules, and shared spectrum options
* Work with talented, motivated and highly knowledgeable spectrum standards experts
* Get industry news summarized for company consumption and competitive updates


If you belong to an organization that works toward advancing technologies supporting  innovative utilization of spectrum and  development of wireless communications systems, you need to be a part of the Wireless Innovation Forum.
Your competitors are here.  Join the community.